The EWS Intelligence Team are our 'human in the loop' populating the Open Source Threat Database (OSTD) from publicly available data (PAI) using a variety of skilled open source collection methods. They then verify and validate the data to provide discrimination and expertise to every OSTD entry.
We would like you to meet them and put faces to the team that input the data into the OSTD. In this article, it's Gabby's turn to introduce herself.
Meet Gabby Crawley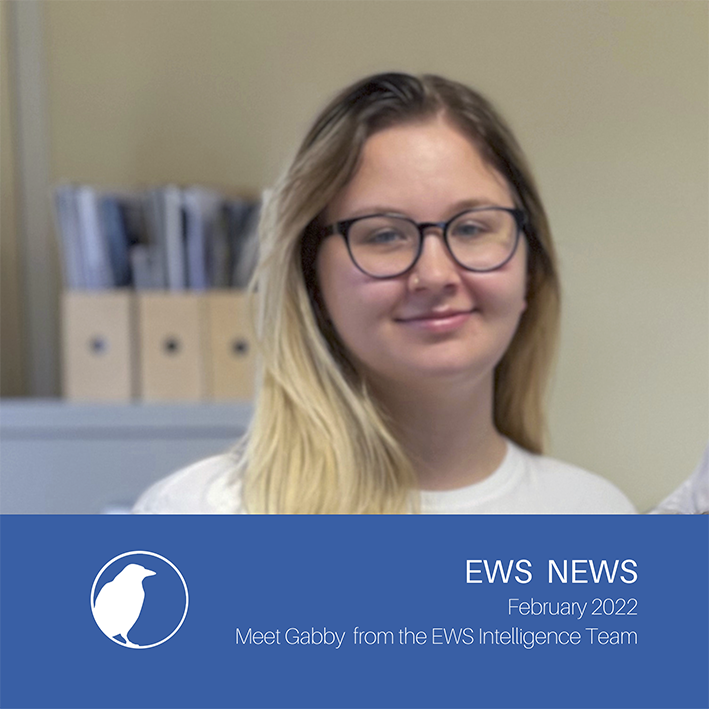 "Hi! My name is Gabby and I've been a Data Analyst for EWS since June 2021.
"I completed my undergraduate degree in Criminology with Police Studies at York St John in 2021. I am currently studying for a Masters in International Security and Terrorism at the University of Birmingham, whilst continuing to work at EWS.
"My studies are primarily based around global security issues and cooperation, theories behind securitisation, the institutions behind security and terror, the history and theory behind political violence and the theories behind fear, trust, and cooperation. There is definitely a lot of theory involved!
"I have followed in my Dad's footsteps with an interest in counter-terrorism. One of my recent modules, Terrorism and Political Violence, has been my favourite so far as it gave me a practical and in-depth knowledge and context into historical events and how terrorism and political violence can, and does, occur.
"One thing that I particularly love about working at EWS is the practical insight it gives me into electronic warfare and IED-related terrorism around the globe that you don't see in the news. I am also very grateful for the continuous training from EWS professionals to allow me to expand my knowledge and expertise, whilst also constantly improving in my intelligence gathering and data analysis in an area I am very interested in."
We hope you've enjoyed meeting Gabby and learning more about her. Stay tuned for more blogs coming from the Intelligence Team soon.
If you'd like to meet the rest of our Intelligence Team, please click on their names below:
Joanne Smith – Intelligence Research Analyst