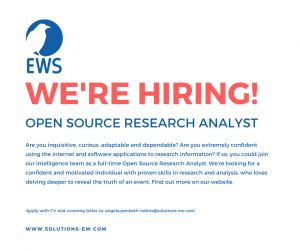 EWS is expanding! We are looking for an Open Source Research Analyst to join our busy and growing Intelligence Services team.
Reporting to the Intelligence Services Supervisor, the successful candidate will become part of a highly dedicated team offering global open source intelligence data to our clients.
Main responsibilities
Gather detailed intelligence using open source and paid services.
Analyse gathered intelligence and identify links between key pieces of information.
Data entry and manipulation of multimedia files including audio, video and imagery into our proprietary software, the Open Source Threat Database (OSTD).
Maintain records and backups of all relevant OSTD data using a variety of Microsoft Office packages.
Provide EWS Operations personnel with supporting information and data to support a variety of EWS products and services.
Liaise with the Intelligence Services Supervisor regarding:
Faults and issues with the product;
Ideas for enhancing the product and for responding to customer requests.
Additional responsibilities
In conjunction with the nominated project lead, provide analytical input and support to consultancy operations.
Operate as part of the wider EW Solutions pool of Domain Knowledge Experts / Subject Matter Experts.
Fulfil any other relevant tasks deemed appropriate by the Intelligence Services Supervisor.
Required skills
Advanced Level qualification (or equivalent) supporting analytical or other relevant discipline(s), or an equivalent combination of education and experience.
Experience in conducting Open Source Intelligence (OSINT) research and analysis (highly desirable).
Demonstrable experience or qualifications in the use of Microsoft Office tools – Excel, PowerPoint and Word (essential).
Ability to manage own time whilst working to tight deadlines in a fast-paced environment.
Ability to identify key pieces of information from a wealth of data.
Excellent investigative skills and a curious mind.
Desirable skills
Experience in a research or analytical role or subject matter expertise in the field of improvised explosive devices. A military background would be highly advantageous.
Experience in developing OSINT facts sheets, reports or presentations.
Previous experience of manipulating and using Multimedia files.
Open Source Research Analyst salary
The salary will be commensurate with experience for the successful candidate.
Want to apply?
Please email your covering letter, CV and salary expectations to Business Manager, angela.penketh-robins@solutions-ew.com
About EWS
EWS is an independent and equipment agnostic consultancy that provides specialist assistance to government agencies, industry and the user community. We are fully immersed in the capability development and capacity building arenas, enabling us to provide a critical conduit between stakeholder, user and vendor during complex procurement activities.
EWS personnel have decades of experience. Our teams are the best in their given subject areas with proven track records providing capability development, ILS, engineering support and training services in over thirty countries worldwide.
Additional information
EWS is an equal opportunity employer. We celebrate diversity and are committed to creating an inclusive environment for all employees and actively encourage applications from all sectors of the community.
EWS is a signatory of the Armed Forces Covenant and a 2020 Silver Award Winner within the Defence Employer Recognition Scheme.
Please look around our website to learn more about us.