VACANCY – Researcher
We have a unique opportunity for a keen individual to join our agile Intelligence Team as a Researcher.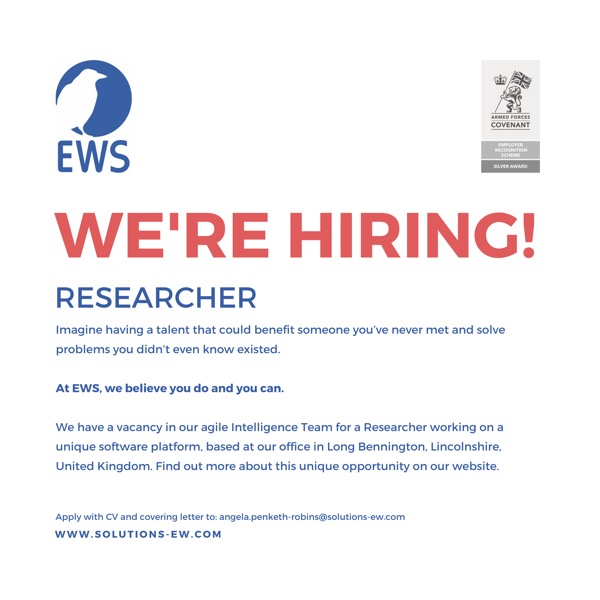 Imagine having a talent that could benefit someone you've never met and solve problems you didn't even know existed.
At EWS, we believe you do and you can.
If you think you have the skills to identify and harvest data from the online open source environment and record it in our database then you could join us as a Researcher.
You'll be working on our unique software platform, the Open Source Threat Database (OSTD), inputting the data you have found so that it can be used efficiently and effectively by our respected clients in the Law Enforcement and Defence Industries across the globe.
Key skills required:
Proven skills in research
Attention to detail
Excellent literacy skills
Keen to learn
Team player
Motivated
Good communication
This flexible role (20 – 37.5 hours per week) will be office based in Long Bennington, Lincolnshire, therefore applicants must be able to drive. Due to the nature of the business, they must also pass a DBS and Base Line Security Check.
To find out more about the role and have an informal discussion, please contact Phil Hunt: phil.hunt@solutions-ew.com
To apply for the role, please send your CV to: angela.penketh-robins@solutions-ew.com
ABOUT US: EWS is recognised by governments, defence and security departments around the world as a key supplier of open source threat intelligence data, threat analysis and threat reporting. The OSTD is routinely relied upon to provide credible and up to date intelligence on emerging trends in RCIED threats and Counter-IED.