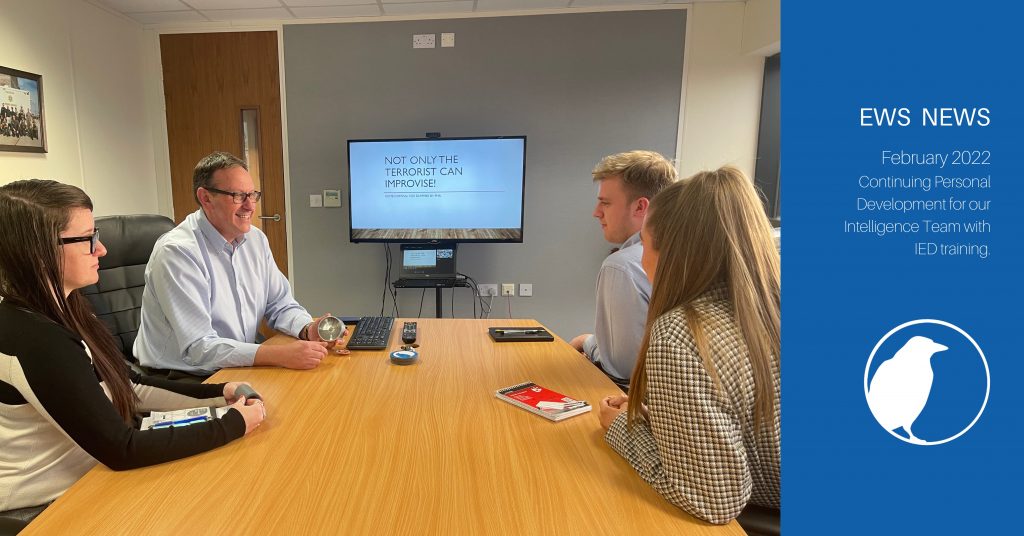 Strength through collaboration is an EWS motto which doesn't just apply to our customers but also within our teams. We are continually searching for ways to improve our knowledge and expertise and where better than to look inwards to our own Subject Matter Experts for additional training and continuing personal development?
So, with the arrival of Phil Hunt to EWS, the Intelligence Team grabbed the opportunity to refresh some of their IED knowledge with additional training from this experienced operator and instructor.
Phil has a wealth of experience in the EOD, IEDD and C-IED fields, having served 37 years as an Aircraft Weapons Technician in the RAF. His instructional experience has been gained within the Army School of Ammunition and the Defence Explosives, Munitions and Search Training Regiment. The Intelligence Team spent several hours with Phil, absorbing his extensive EOD and IEDD knowledge and asking probing questions.
At EWS we are always striving to improve and never rest on our laurels when it comes to training. We have a huge number of training courses across a wide range of topics which our SMES can deliver to you and your teams. Just call us on +44 (0) 1636 550 490 today to have a conversation about your needs.