EWS and Leonardo Training Academy Lincoln were delighted to co-host the third CEMA/ISR Industry Engagement and Networking Day in November 2022.
The event was created specifically to bring together domain knowledge experts from the East Midlands to showcase both the depth of CEMA/ISR and EW capability, and diverse skills in the area and to support industry as they deliver successful defence projects. The capacity attendance at this third event shows how it is gaining momentum amongst the CEMA/ISR community.
Once again, the day offered attendees the invaluable opportunity to forge new relationships, build new partnerships and explore potential collaborations. SMEs from across the East Midlands and beyond were invited to attend, alongside Primes, academia and the military, with over 35 separate organisations represented on the day.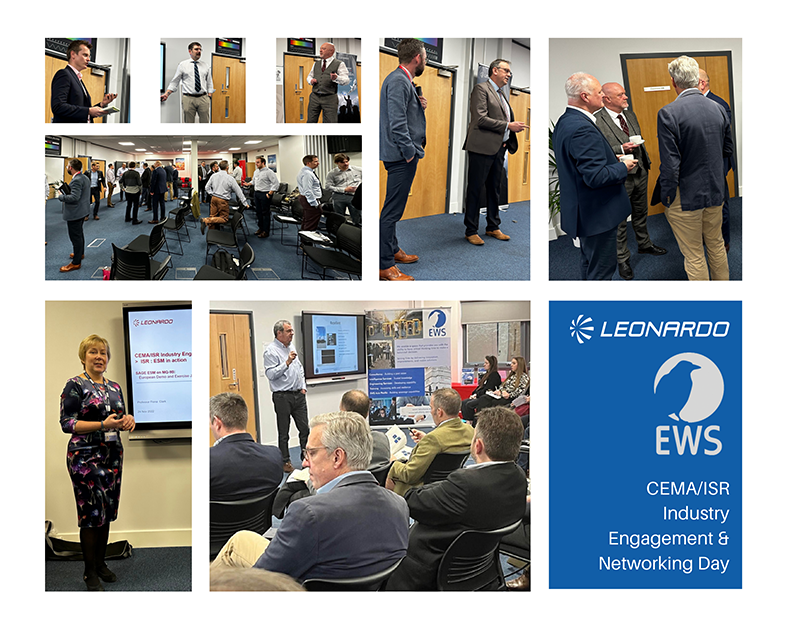 After a welcome and introduction from Jamie Garbutt of Leonardo and Phil Hunt of EWS, the Chief Technology Officer for EWS, Dave Ruddock gave a topical presentation focusing on recent Russian drone activity in Ukraine. This was very well received and led to a lively question and answer session from the delegates.
Other speakers included: Lt Col Dave Phillips from the Army HQ Land Cyber Programme who provided an update on the Land Cyber Programme and the Future of EWSI Training, Professor Fiona Clark, Head of Capability at Leonardo, Matthew Knowles and Louis Cleary from TommyWorks and Andy Mannix from UK Export Finance, amongst others.
Yet again, the feedback received from attendees following the third event has been exceptional, with many delegates expressing their thanks for the renewed opportunity to catch up with other SMEs, foster new collaborative relationships within the CEMA/ISR industry and extend their network of contacts.
The fourth CEMA/ISR Industry Engagement and Networking Day will be held in May 2023 and anyone interested in attending should register their interest with EWS sooner rather than later as places will be limited.