On Saturday 26th October 2019, six gym-honed athletes from the EWS Field Support Cell took part in Somali Spartan 2019 hosted by and held at the RA International compound, Aden Abdulle International Airport, Mogadishu.
The event was organised by Maj Pete Thompson, SO2 Stabilisation, UK Mission Support Team to raise awareness and much needed donations for the HAART Anti-Human Trafficking Programme.  The programme supports the eradication of human trafficking, exposing the crime and empowering its victims.  The charity is a non-governmental organisation based in Nairobi dedicated to fighting human trafficking in Eastern Africa.  HAART works through a multi-disciplinary approach applying the UN Four P's Strategy to combat trafficking in persons:  Prevention, Protection, Prosecution, Policy and Partnership.
Alf Cupper, Deputy Country Manager said: "Our FSR team were scheduled for a 1630hrs slot to compete but were delayed by a security alert.  Not deterred, once given the all clear the EWS team registered at 1745hrs.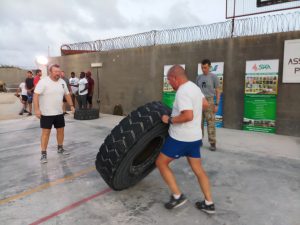 "The team challenge consisted of 3 x 2-minute exercises completed in pairs; weighted step ups, weighted shuttle run and a tyre flip.  The FSC team consisted of: Mark Brooksbank, Alf Cupper, Mike Iles, Jamie Leishman, Tommy Scanlan and Carl Weaver with Nige Cathrew as the team cheerleader and photographer.
"It is fair to say that at the end of 6 minutes hard work each the team was 'proper' whacked! We gave it our best shot and scored a respectable 444 repetitions.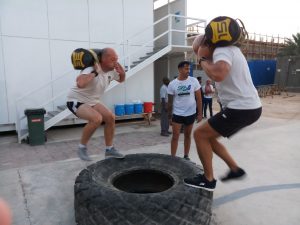 "The winning team was from Swedish armed forces with a total score of 600.  Our average age is 49.3 with the winners having an average age of 27!
"The event finished with a very welcome barbeque, during which a raffle was held to boost the sum raised on the day.  At the prize giving it was announced by Pete Thompson that the event raised, through entry fees, donations and the raffle in excess of $5,000.00.  A huge well done to all who took part and thanks also go to Jon Gower, Managing Director from EWS for a very generous donation."