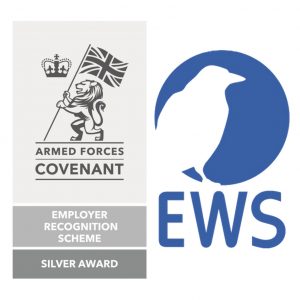 "When we started the business in February 2009, we had high hopes for the future but none of us could have imagined how successful our venture would be," says Jon Gower, CEO of EWS Ltd.
13 might be considered by some to be an unlucky number, but for EWS it represents significant success.
EWS initially grew out of two requirements; one for businesses to access experienced Electronic Warfare solutions outside of a military environment. The second was to support operational teams, governments and agencies to make key decisions on challenging subjects where global experience in these areas was in short supply.
Jon continues: "However, we quickly realised that the unique skill set we had between us would allow EWS to extend help and support much further than we initially thought.
"Today EWS is a full spectrum, independent advisory consultancy for governments, defence sectors, global corporate and private sectors. We are proud to be the world class mission partners of choice to Governments and Industry Partners for specialist consultancy, training and intelligence-led services across the Electronic Warfare (EW) and Joint Cyber and Electromagnetic Activities (CEMA) and counter-terrorism domains."
EWS was started by Jon, Troy Phillips and Dave Ruddock who between them had over 70 years of experience in EW and counter terrorism gained in the British Army and subsequent expertise gained with industry in North America, in particular working very closely with industry, agencies and the USMC. The Team focused on developing their UK footprint and their international profile, which included a significant business development focus and establishing a new market in a providing pan-domain, vendor agnostic advice and support.
Shortly after that Angela Penketh-Robins and Paul Crawley joined and the core management team was defined.
Today EWS is a full spectrum, independent advisory consultancy for governments, defence sectors, global corporate and private sectors.
In the 13 years that have passed, the company has grown to 15 UK based employees, four employees in Australia and an extensive network of associates and consultants spread across the world.
Eddie Edwards joined EWS in March 2021 as Managing Director and Jon Gower stepped up to the position of Chief Executive Officer.
The work and projects that EWS have been involved in over the years are incredibly varied, drawing on the unrivalled breadth of knowledge and unique skill sets their veteran employees gained while working for the military around the world but also based on the vast amount of expertise garnered in the private sector supporting both Tier 1 defence companies and SMEs.
The EWS team was heavily involved in developing an overarching National Battle Space Management CONOP for Australia. The company is a trusted Customer Friend for a European Defence agencies £40M+ project to develop an armoured EOD and EOD ECM capability.
EWS is incredibly proud to have protected and saved many lives while their Field Service Representatives were deployed in Africa and the Middle East delivering key long-term projects, Engineering Services and specialised training on behalf of EWS to governments and defence contractors. Sadly, though during this time, we also lost an EWS team member in a non-work-related incident; Mac may be gone but he will never be forgotten by his EWS family.
As more and more clients rely on EWS to provide verified and actionable unclassified intelligence derived from open sources to counter ever increasing threats, the company now has a dedicated Intelligence Services arm. Academic research and intelligence specialists, who bring a fresh perspective to the EWS intelligence offer monitor open sources to deliver updates and analysis on attacks as they happen around the globe; this blended approach to academia and veterans is highly valued by those who we support.
"Being agile and adaptable has allowed us to recognise opportunities and gaps in the market and quickly move to meet and fulfil client needs as they occur," said Troy. "Our flexibility is regularly utilised by companies who choose EWS as a key mission partner to help deliver their complex projects across the globe."
Eddie commented: "The many opportunities facing EWS are incredibly exciting and I'm looking forward to leading the team as we partner to deliver on some critical major programmes, as well as driving the company to continue its incredible successes and growth."
Jon finished:
"The whole EWS team is incredibly proud of what it has achieved over the last 13 years and we continue to look to the future with enthusiasm and excitement. We don't know what it holds but in true EWS style, we will adapt to meet it."