Here at EWS, work on our Open Source Threat Database (OSTD) is all about the present as our team of dedicated Analysts work daily to acquire, process, and validate the open source intelligence (OSINT) before it is input into the database.
Of course, the past is very relevant too, especially when assessing and studying trends and the activities of those engaged in the design, manufacture, use and proliferation of IEDs.  We have now passed over 55,000 entries of recorded global IED and RCIED events – each 'event' is related to a separate IED incident somewhere in the world, assessed and sorted into standard IED terminology that both specialists and generalists can relate to.
Book a demonstration of the OTSD's capabilities today
Seeing and using the OSTD is the best way to establish if it would help to ease the research burden on your team and we can easily arrange a demonstration of the database or time-limited access to assess the value it can bring.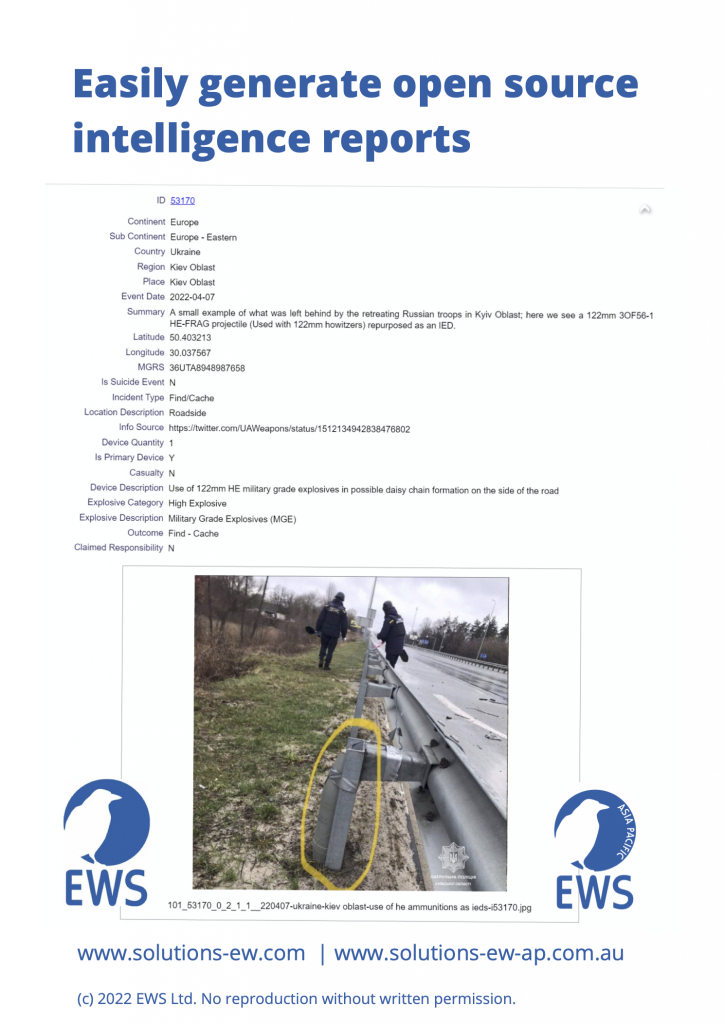 The war in the Ukraine is high on everyone's news feeds and this is just one area of the world we monitor and report on. As you can see from the detail in an extract from this example report, the open-sources provide a remarkable amount of publicly available information – but the real skill lies in finding it.  Our research team has fine-tuned the ability to find IED events in over 30 languages, using the multitude of search terminology needed to find and then triage the data.
For each of the 55,000+ events held in the OSTD, our trained analysts use many different search techniques across the web which allows them to acquire, process and validate the OSINT data. This data can then be used to create actionable intelligence by analysts seeking to inform decision makers about current and future threats, trends, IED activities and much, much more.
At EWS and our subsidiary EWS (AP) in Australia, we provide support to customers who are located across the world working in a variety of sectors, including the commercial, operational, intelligence and defence arenas. Although the sectors can vary greatly, the ability to access a secure (AES256 link) database that has around 1,000 new IED event entries per month and 55,000+ IED data reference points, means each customer finds their own use of the OSTD, which helps them direct a proactive strategy, design equipment or provide other activities needed to mitigate the threats presented to citizens, agencies, law enforcement, military, peace-keepers and NGOs by IEDs and RCIEDs.
Please contact EWS for a no-obligation demonstration of the OSTD, to arrange time-limited access to the data, and details of our very flexible payment options.