The EWS Intelligence Team are our 'human in the loop' populating the Open Source Threat Database (OSTD) from publicly available data (PAI) using a variety of skilled open source collection methods. They then verify and validate the data to provide discrimination and expertise to every OSTD entry.
We would like you to meet them and put faces to the team that input the data into the OSTD. In this article, it's Meaghan's turn to introduce herself.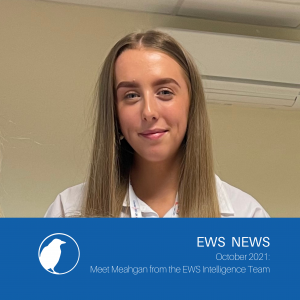 Meet Meaghan Robins
"I have recently graduated from Birmingham City University with First Class Division in BA (Hons) Criminology and Security Studies. My interest in intelligence and security has grown during my three years of study, with modules including Intelligence and Security Since 1945, War and Conflict in the Modern World and Critical and Terrorism Theory preparing me with a fundamental understanding of contemporary issues in security.
"EWS has allowed me to explore a wider range of disciplines that contribute to the analysis of intelligence, giving me the opportunity to develop my skills through practise. Additionally, equipping me with a wide range of knowledge on different approaches to security, politics and intelligence and its impact on security and insecurity within the UK and worldwide; crucial expertise that I have been able to adapt and effectively utilise in the workplace.
"My dissertation was titled "To what extent should the Military prioritise cybersecurity over other domains of warfare in order to protect the United Kingdom from potential threats" and it explored the ever-growing threat of cyber-attacks damaging critical infrastructure and the need for an evolving strategy. This research project prepared me for a role in intelligence analysis, exploiting my critical analysis skills, organization, and high attention to detail.
"Most recently, I have really enjoyed researching the advancements in UAV technology and the potential threats they pose in future, applying the theoretical elements of War and Conflict and the impact advances in technology will have on security.
"EWS has broadened my perspective of a professional landscape and enabled me to experience first-hand how gathering data is applied and employed in a practical context.
"I have recently begun an MSc in Intelligence, Security and Disaster Management at the University of Derby. Alongside my postgraduate studies, I am looking forward to developing my skills further and utilizing the resources available to me with the exciting opportunities EWS has to offer in the future, building my professional network and gaining experience within a commercial company. "
We hope you've enjoyed meeting Meaghan and learning more about her. Over the coming months, we'll be introducing the rest of the Intelligence Team so stay tuned for more blogs coming from them soon.