Global consultancy rebrands to reflect growing demand to complex problem solving 
Electronic Warfare Solutions Limited (also known as EW Solutions Limited) has been rebranded to EWS to better reflect the growing global need for an agnostic business consultancy with a holistic approach.
EWS rebrands to reflect new business focus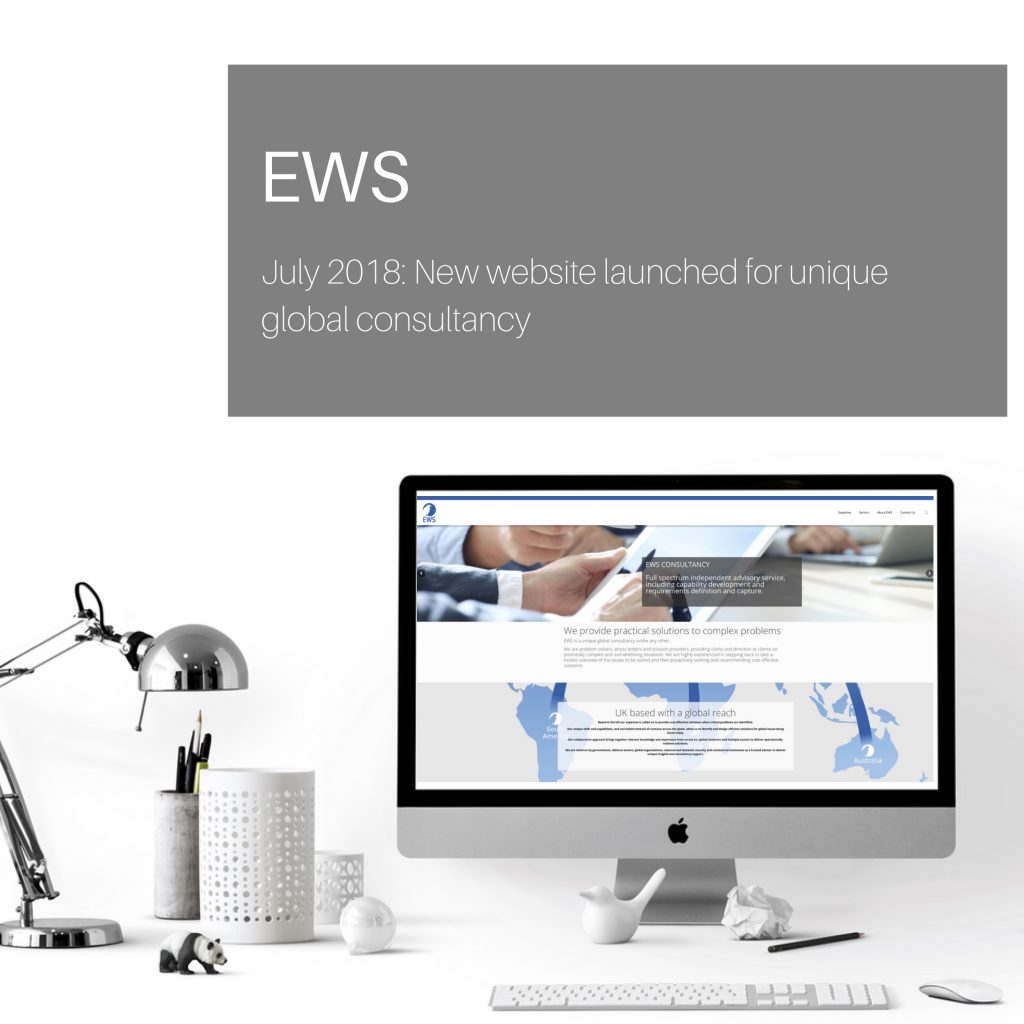 Managing Director, Jon Gower said:
"Over the last few years, it has become increasingly clear to us that we needed to refocus our expert services and consultancy offerings to meet the unique and individual requirements of our clients in ever-changing and complex environments.
 "More and more, EWS is being recognised as the go-to global business consultancy for providing proactive and cost-effective operationally-resilient solutions where critical and complex problems are identified.
 "Our rebrand to EWS better reflects our revised role as a key partner and solution provider to our clients."
Business Development Director for EWS, Troy Phillips said:
 "Governments, defence sectors, global organisations, national and domestic security and commercial businesses are turning to EWS to partner with them and deliver unique insights and practical solutions to potentially overwhelming problems.
 "Crucially, our wide-ranging expertise allows us to efficiently handle the sourcing of solutions for unique and complex problems that initially seem unsurmountable. We help reduce risk and costs by offering agnostic experience gained from best in class practices, combined with a proven ability to successfully deliver projects both large in scale and reach."
As part of the company rebrand to EWS, the business has also launched a new website to better reflect the wide-ranging services they can offer to clients across the world:
global business consultancy and advice;
intelligence services;
managed services;
manpower services;
and specialist training programmes, to name but a few.
Visitors to the website are also able to request more information on the wide range of intelligence services offered by EWS, including threat reports and lists, Requests For Information and a demonstration of their Open Source Threat Database.
Those in the know, use EWS to solve their problems
Troy continues:
"In fact, even if your problem or service area isn't listed on our website, it doesn't mean we can't help. EWS is rapidly becoming a valuable industry resource as businesses and sectors turn to us to help them solve their issues.
 "Some problems are so big or so complex that it's actually quite hard to see how they can be resolved. However, at EWS we have a proven track record in managing complex programmes and delivering a wide range of solutions for government sectors and global businesses.
 "We are totally unique in our partnership and collaborative approach. We take time to ensure we have a thorough understanding of each individual problem or problems; then we will deliver proactive support, unique insights and recommendations to improve operations and meet budgets and deadlines.
 "Additionally, through a process we refer to as 'NOW, NEAR, NEW', we ensure that our results are not only operationally resilient but are also future-proofed through a continuing partnership with our clients. We focus on next generation best practices, capability development, sustainable skills transfer and identifying future innovation opportunities to deliver this."
Jon finishes:
"At EWS we pride ourselves on a collaborative approach that brings together relevant knowledge and experience from across our global networks, delivering visionary and innovative solutions within the timescales and budgets set.
 "Simply put, we provide practical solutions to complex and unique problems. So, if you have one, then call us at EWS for a discussion about how we can help you."