"Since we gained Silver in the 2020 regional Defence Employer Recognition Scheme (ERS) Awards in 2020, we have continued to support members of the Armed Forces community and actively inspire other employers to do the same," said Phil Hunt, Managing Director of EWS.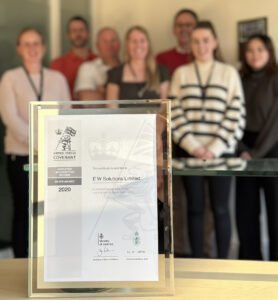 "The Silver Award certificate takes pride of place in our entrance so that our staff see it every time they enter and leave the office. When we signed the Armed Forces Covenant, we promised that we would value the work of all members of the Armed Forces and recognise their commitment, and the sacrifices that their families also make.
"The Silver Award means so much to our entire company. Every employee knows that we have a positive and proactive Human Resources policy and we are committed to supporting them as they progress in their careers.
"We are proud to be a veteran owned and operated company, and as Army and RAF veterans ourselves, we fully recognise the invaluable skills that military veterans can bring to our organisation.
"Since winning the award, we have continued to promote the benefits of employing members of the defence community to other employers and local businesses."