60,000 recorded IED and RCIED entries on the Open Source Threat Database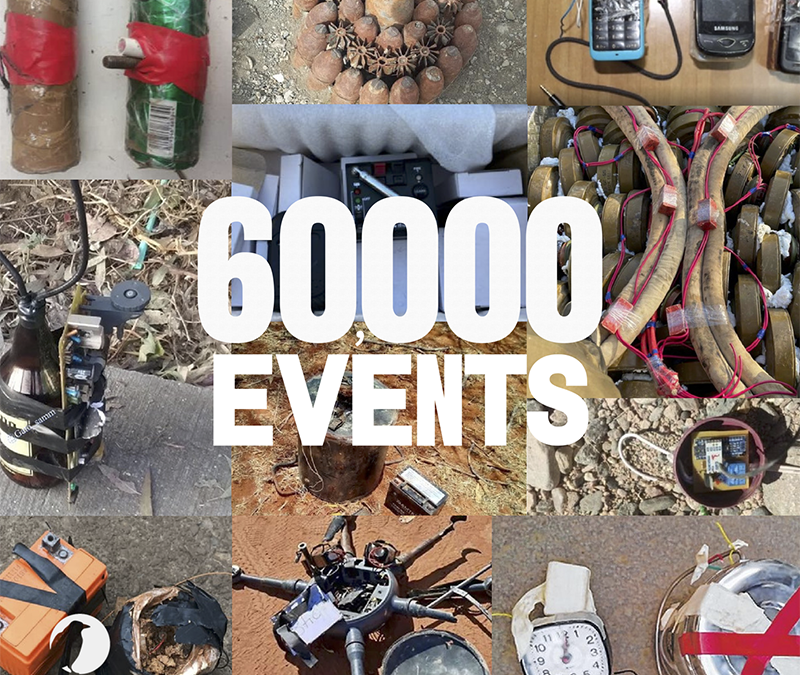 The Open Source Threat Database (OSTD) recorded its 60,000th entry in April 2023, making it one of the most comprehensive threat databases on RCIED and C-IED events in the world.
Managing Director of EWS, Phil Hunt said:
"As the world's leading improvised explosive threat intelligence source, the OSTD is the first choice for customers who need access to the most comprehensive and up to date worldwide explosive threat intelligence database for the global threats posed by IEDs and RCIEDs.

"The OSTD is relied upon by decision makers to inform them about what they do not already know, and it enables them to then decide on a course of action. As the IED threat to citizens and assets continues to evolve, it is vital that our security and defence forces can respond quickly and effectively to new and emerging threats."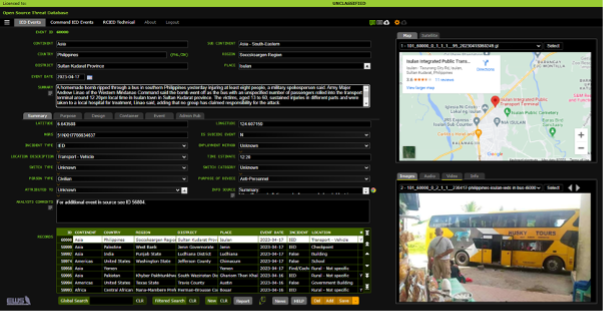 The 60,000th event recorded perfectly exemplars the depth of data held in the OSTD and how it can be used to track evolving events.
This event in April 2023 involved an RCIED with concrete nails which functioned on a 'Yellow Bus Lines Incorporated' bus when it had arrived at the Public Transport Terminal in Isulan, Philippines, injuring eight people.
Our analysts made a clear connection to a previous event in November 2022 in the Phillippines where a 'Yellow Bus Lines Incorporated' bus was also the target of an IED attack as it was arriving at a bus terminal. That earlier event resulted in one fatality and eleven wounded. Both events in Sultan Kudarat Province had two separate devices placed on the vehicles, and each consisted of an RCIED which had been initiated by an unidentified cellphone.
To see a selection of the events recorded in the OSTD – CLICK HERE
Turning intelligence into actionable knowledge
The effective use of OSINT coupled with other sources of intelligence can provide actionable intelligence assisting in the identification of current and future threats. This can turn the 'unknown unknowns' into 'known knowns' – and help towards a proactive strategy for mitigating the threats presented by IEDs and RCIEDs.
The OSTD delivers actionable intelligence data from which an informed response can be made, however, as the data is drawn from open sources, the challenge lies in knowing how to negotiate through the vast quantities of information available on the internet and social media.
Why the OSTD is a world leader in OSINT data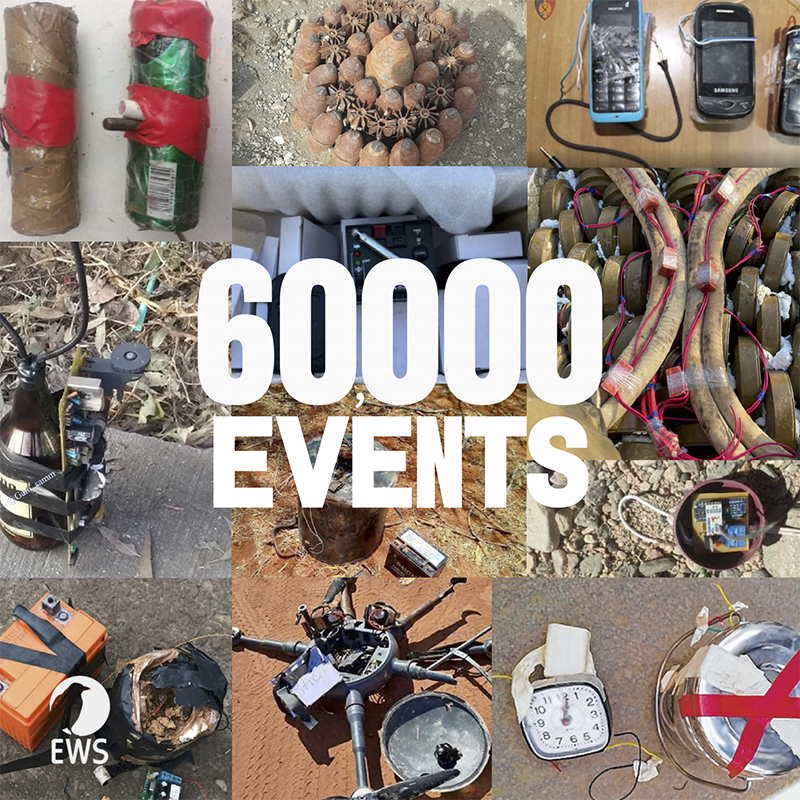 The EWS Data Analysts are trained to use many different search techniques and to 'think outside the box' in order to acquire, process and validate the data collected on each event. The information gathered is subjected to sophisticated search processes and cross-referenced against existing known metadata and geo-location information – then emerging threats, tactics, techniques and procedures can be identified. As such, the OSTD contains vast data on critical indicators and warnings for threatening behaviours, aiding decisions made to maintain operational advantages.
EWS customers currently using the Open Source Threat Database (OSTD) are now able to easily access IED incident information gathered from open sources around the world and clearly presented in a user-friendly database. It is then possible to search, access, filter and produce detailed reports from the entries on subjects such as location, time, device, switch and attributable state/non-state actor.
Phil comments:
"EWS is continually developing its intelligence services offering and we have a committed programme of continuing improvements to help governments, defence and security departments keep pace with the rapidly evolving RCIED/IED threats that threaten their citizens and Forces.

"And coming soon to the OSTD, the EWS Intelligence Team have been undertaking development work on the platform which has been dedicated to drone (uncrewed air systems / UAS) events globally. As these can occur in Air, Land or Maritime, we are using the collective term 'UxV' to categorise them from IED/RCIED events. This enhanced service will offer our existing OSTD subscribers another capability to deal with emerging threats, and understand the operational challenges being faced when dealing with UAS and the UxV threat."
To find out more about the role open-source intelligence plays in defeating improvised threats, contact EWS for a confidential chat.
The OSTD is a near real-time online repository of global RCIED and remotely detonated IED events. Updated on a daily basis by our Subject Matter Experts, it provides an essential open source intelligence resource in addressing this dynamic threat and complex operational environment.
A no-obligation demonstration of the capabilities of the OSTD can be arranged either online, remotely or in person. CLICK HERE to contact us today to arrange a no-obligation demonstration of our Open Source Threat Database, request a temporary log-in or to ask for more information.