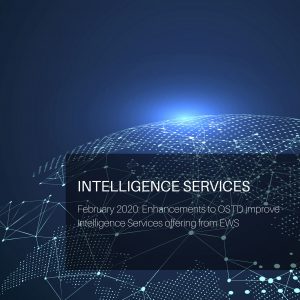 EWS customers currently using the Open Source Threat Database (OSTD) are now enjoying significant enhancements to this essential unclassified intelligence resource.
With the latest software updates to the system, intelligence data within the OSTD is now easier and faster to search, access, filter and produce reports from the near 35,000 entries, vastly improving the user experience and access to the data.
Managing Director of EWS Jon Gower said: "The OSTD is the first choice for customers who need access to the most comprehensive and up to date worldwide threat intelligence database for the global threats posed by IEDs and RCIEDs.
"EWS is continually developing its intelligence services offering and these free enhancements to the OSTD are the latest step in a committed programme of improvements to help governments, defence and security departments keep pace with the rapidly evolving RCIED/IED threats that threaten their citizens and Forces."
ABOUT THE OSTD
The OSTD is a near real-time online repository of global RCIED and remotely detonated IED events. Updated on a daily basis by our Subject Matter Experts, it provides an essential open source intelligence resource in addressing this dynamic threat and complex operational environment.
A no-obligation demonstration of the capabilities of the OSTD can be arranged either online, remotely or in person. Contact us today on 01636 550 490 to arrange a no-obligation demonstration of our Open Source Threat Database, request a temporary log-in or to ask for more information.